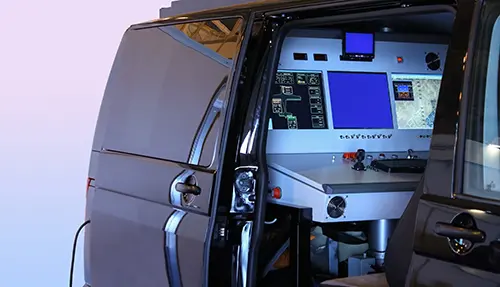 Establishing reliable event security often requires the establishment of a mobile Command post. In today's high threat environment, numerous physical, electronic, and other security threat countermeasures must be integrated and coordinated to deliver the desired security effect. Checkmate is a proven reliable and effective manager of a wide variety of security services to include mobile command post deployment, staffing, and operational control.
Mobile command posts are used to provide centralized command and control for personnel, equipment, and resources. A mobile command post provides a secure, one-stop-shop for operators and event personnel to communicate and coordinate all aspects of an event, from security to logistics to operations. Mobile command posts are typically equipped with state-of-the-art communications and computer systems, allowing event personnel to stay connected and up to date with the most recent information.
Incorporating a mobile command post for events large and small empowers your dedicated security staff to effectively and efficiently coordinate and deploy against all active or emerging threats. Mobile command posts can be rapidly set up, repositioned, and taken down as the security threat dictates. They provide a secure location for event personnel to store and share sensitive information. The secure environment allows for the sharing of confidential data without risk of interception or leakage.
Mobile command posts also provide a platform for event personnel to share ideas and best practices. By having a central command post, personnel can collaborate more effectively and share ideas in real time. This can help ensure that everyone is on the same page and can work together to ensure the event runs smoothly. Overall, mobile command posts are an invaluable tool for event personnel and security personnel. They provide a secure environment for personnel to communicate and coordinate, as well as a platform for collaboration and sharing of ideas. Mobile command posts are essential for any successful event.
Contact Checkmate Global for your event mobile command post needs.