Our Team
We are a people driven organization. It is our team and their commitment to excellence that fuels our success.
SPENCER GEISSINGER
Spencer Geissinger is an experienced leader whose career has spanned politics, government, and the private sector – he has served in senior roles in multiple political campaigns, a Governor's office, the White House, the Department of State and most recently multiple leadership positions in the private sector. Mr. Geissinger currently serves as President and COO of Checkmate Global, a nationally recognized multi-faceted security company with a primary focus on temporary deployable perimeter security assets, vulnerability assessments and surveys, workplace security and safety consulting, executive protection details and training.
After leaving federal government service in 2009, Geissinger served as Director of External Affairs and Director of the Washington DC Office for the Governor of Florida. In this role, Geissinger was the principal liaison with private industry, the U.S. Congress, and the Executive Branch of the Federal Government for the third largest state in the United States. Mr. Geissinger was named to this role after serving as Deputy Campaign Manager for Governor Scott's successful gubernatorial campaign in 2010. Following his service to the State of Florida, Geissinger served as the Chief of Staff to an ultra-high net worth family office overseeing a large and diverse staff and budget of in excess of $12m annually.
From 2007 until 2009, Geissinger was the Deputy Assistant for Operations to the President of the United States. In that role, Mr. Geissinger oversaw the seamless integration of dozens of military, security, and operational agencies and components involved in the execution of the Presidential traveling footprint – including the United States Secret Service, the White House Military Office, the Presidential Airlift Group, the Presidential Helicopter Squadron, the White House Communications Agency, and others. Mr. Geissinger was frequently the principal U.S. government negotiator on some of the highest profile and most sensitive diplomatic visits overseas.
Prior to joining the White House staff, Mr. Geissinger served as a Senior Diplomat in the U.S. State Department as Assistant Chief of Protocol for Visits and later as Deputy Executive Director of the 2004 G8 Summit, where he led nearly 500 employees and an interagency working group made up of nearly one hundred state, local, and federal entities in executing one of the largest international leader summit hosted in the United States at that time.
Mr. Geissinger has traveled extensively to over 110 countries on official business and in direct support of the President of the United States as a senior advisor. He was hand-selected to plan and execute the President's final trip to Iraq and Afghanistan, one of a small number of secret missions to a theater of war in the history of the Presidency.
Earlier in his career, Geissinger held several other positions in the U.S. Congress and private sector in senior management roles. Mr. Geissinger serves on the Board of Directors of the Federal Enforcement Homeland Security Foundation.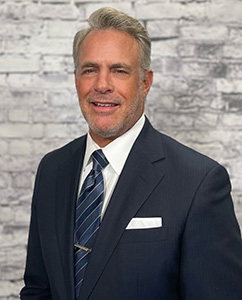 ROBERT MCDONALD
Robert McDonald has a 30-year distinguished career in Law Enforcement at both the State and Federal level. Early in his career he served in both the State of Connecticut and United States Probation Office. Following his service as a Probations Officer he joined the United States Secret Service where he served over 20 years in several high-level management posts. Throughout his career, he completed assignments at the New Haven USSS Resident Office in Connecticut, as well as on the Presidential, Vice Presidential, and Dignitary Protection Division details in Washington, DC. He coordinated security for numerous foreign and domestic dignitary visits, as well as several National Special Security Events (NSSE's), including the 2011 APEC Summit in Honolulu, HI and the 2012 G8 Summit at Camp David in Thurmont, MD. Mr. McDonald also spent time in charge of all asset and personnel allocations for the agency in the Office of Protective Operations and was the operations supervisor at the U.S. Secret Service academy located in Beltsville, MD. He is considered an expert in protective, intelligence, and event planning operations, as well as a leading authority of protective travel logistics and training. He retired in September of 2015 as the Assistant Special Agent in Charge of the Vice-Presidential Division. In this position, McDonald was responsible for all protective operations and training provided to the 180 special agents assigned to then Vice President Joseph Biden and his family.
Upon retirement from the U.S. Secret Service, Mr. McDonald joined the security department of the National Basketball Association in New York, NY, as Senior Director of Global Events Security. During his five and a half years at the NBA, McDonald coordinated numerous domestic and foreign events such as the 2016 Olympics in Rio De Janeiro and several global games in Shanghai, London, Mexico City, and Tokyo. He was the coordinator of the NBA's security platform at the 2020 NBA All Star Weekend in Chicago, IL and oversaw the security platform for two "bubbles" put on by the NBA for the recent completion of the 2019-2020 and the 2020-2021 basketball seasons.
Since May 2021, McDonald has been a member of the faculty at the University of New Haven, Henry C. Lee College of Criminal Justice. He is a member of the Advisory Board of the college and mentors students who are seeking a career in the criminal justice field and often represents the university with local media outlets, commenting on current events and topics. Mr. McDonald holds a bachelor's degree and a master's degree in Criminal Justice from the University of New Haven, as well a master's degree in Management from Johns Hopkins University in Baltimore, MD.
JAMES R. KNODELL
James R. Knodell is a highly respected and dedicated security professional who has spent the last 39 years working in the Federal Government and corporate security. Mr. Knodell was tasked with handling several of the most important and sensitive high- level jobs in the U.S. Government while also planning and executing a vast array of critical and demanding security missions. Mr. Knodell is an experienced security professional offering a proven record in domestic and international security, executive protection, continuity of operations planning (COOP), investigations, and risk mitigation.
He has consistently demonstrated effectiveness and accountability as a trusted leader and was responsible for overseeing protection at the highest levels of Government to include the White House, the U.S. Secret Service Presidential Protection Division and the Pentagon Force Protection Agency. Following his distinguished career in Government, Mr. Knodell continued his career in the private sector as the Executive Director of Corporate Security and Protection for BlueCross/BlueShield.
Mr. Knodell possesses vast expertise in overseas travel security and advance planning, asset management, access control, and threat assessment, deterrence, and mitigation. Additionally, Mr. Knodell is an expert in Executive Protection Training Programs, Strategic Planning Investigations and Security Crisis Management. Mr. Knodell has a Bachelor of Science Degree in Criminal Justice from Illinois State University and held an Active Top Secret SCI Security Clearance throughout his federal government career.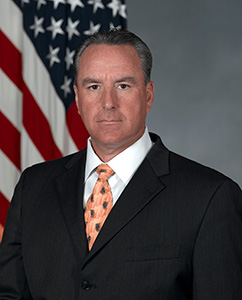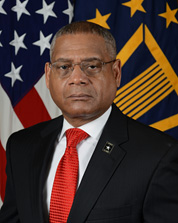 JONATHAN H. COFER
Mr. Jonathan H. Cofer, was a member of the Senior Executive Service, and was selected as the Director for the Pentagon Force Protection Agency (PFPA) on November 27, 2016. He served in that capacity until December 31, 2019, when he retired from federal service. Prior to that, he served nine years as the PFPA Deputy Director.
As PFPA Director, Mr. Cofer was responsible for providing a full range of services to protect people, facilities, infrastructure and other resources at the Pentagon Reservation and in DoD-occupied facilities in the National Capital Region. Within this scope, Mr. Cofer exercised the authorities of the Secretary of Defense under 10 U.S.C 2674 with respect to force protection, security, and law enforcement. He was the DoD principal liaison with State and local law enforcement authorities and communicated directly with DoD Components and other Executive Departments and Agencies in carrying out these assigned responsibilities and functions.
Prior to joining PFPA, Mr. Cofer served as the Chief, Advanced Concepts and Technology Demonstration Division at the Defense Information Systems Agency (DISA). There he was responsible for ensuring the development and rapid fielding of information technology to the warfighter. Mr. Cofer was also detailed to serve as the Chief of Staff of the Defense Security Service where he oversaw the protection of U.S. and foreign classified information and technology as well as security professional education and development for DoD civilians and contractors.
Mr. Cofer is a retired U.S. Army Brigadier General, where he served as a military police officer for more than 30 years. His assignments included commanding over a 2,000-strong Army, Marine and Air Force security and police force; Provost Marshal for multiple military installations to include airfields and ports in the United States and overseas; officer-in-charge of five relocation camps for Cuban personnel in the Republic of Panama, where he was responsible for the security and safety of thousands of men, women and children; and law enforcement, security, and antiterrorism duties for senior leadership at both unified and specified commands. Mr. Cofer oversaw the protection of High-Risk Personnel (HRPs) in both USSOUTHCOM and USCENTCOM. As the Joint Rear Area Coordinator (JRAC) for USCENTCOM he coordinated with Embassy Chiefs of Mission and Regional Security Officers (RSOs) for the security and protection of DoD personnel in Saudi Arabia, Dubai, Jordan, India, Kenya, Ethiopia, Eritrea, Egypt, Kuwait, Qatar, Bahrain, the UAE and Yemen areas of responsibility. He was an advisor to two Chairmen of the Joint Chiefs of Staff on DoD antiterrorism and force protection matters, as the Deputy Director for Operations and Plans for Antiterrorism and Force Protection on the Joint Staff. Mr. Cofer testified before a House committee on DoD's corrective actions regarding the bombing of the USS Cole in Yemen. He was serving on the Joint Staff in the Pentagon on September 11, 2001 and was involved in DoD's heightened force protection response to the attacks. Brigadier General Cofer retired from the Army in 2002.
Mr. Cofer is a native of Philadelphia, Pennsylvania and a graduate of LaSalle University with a Bachelor of Arts degree in Psychology and a master's in management and administration degree from Central Michigan University. He is a graduate of the U.S. Army War College and completed the Army's Airborne and Air Assault schools.
DR. BRIAN D. AGNEW
Dr. Brian D. Agnew is a respected and proven executive in emergency management with over 20 years of professional experience serving public, private, healthcare and higher education sectors. His strategic leadership expertise is frequently tapped to bridge the critical relationships between law enforcement, fire service and emergency medical personnel required for seamless response prior to and throughout large and small scale incidents. Serving as a liaison to multiple agencies including the United States Secret Service, the Department of Defense, United States Park Police and a variety of state and local law enforcement agencies around the country, Brian has gained a reputation for providing effective oversight and counsel.
A first responder and critical incident consultant Brian, brings a unique frontline perspective to emergency preparedness, workplace safety, response strategy, school security, crisis management, critical event logistics oversight and operational continuity. His background includes leadership roles such as Fire Commissioner, Captain, 1st Lieutenant and 2nd Lieutenant in New Jersey and New York fire departments where he earned dozens of certifications including Haz-Mat Operations, Swiftwater Rescue Technician, Firefighter I (NY & NJ), Firearms Instructor and FEMA Incident Management Level 1, 2 & 3.
Agnew's formal education also provides useful applicability to his emergency management experiences. He has an undergraduate degree in public relations and journalism from Utica College, an MBA is Organizational Management from Syracuse University and a Ph.D. in Organizational Leadership with a focus on Crisis Management from Rutgers University.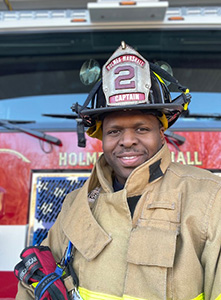 AJAY PATIL
Ajay Patil, co-founder and partner of Checkmate Global began his career in the security world serving as a Senior Lead Advance Representative in the George W. Bush White House Advance Office from 2001-2008, working hand in hand with the U.S. Secret Service to plan travel, events and logistics for the President and First Lady of the United States.
In 2008, Patil spearheaded the launch of Showcall Security Services, a division of event production firm, Showcall, to provide deployable perimeter security assets to a variety of high-profile, large-format events such as: Pope Benedict XVI's Mass for 47,000 at Nationals' Stadium, Pope Francis' Mass at Catholic University, numerous U.S.-hosted International Summits, JFK 50th Anniversary, and the George W. Bush Library Dedication.
Due to the increased demand of security related services and assets in recent years, Showcall Security Services evolved into its own business, under the name Checkmate Global.
Patil lead Checkmate Global's efforts to expand its offerings into the marketplace, having both a large inventory of deployable perimeter security assets and also providing consulting services that include threat assessments and active threat training.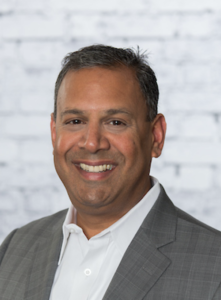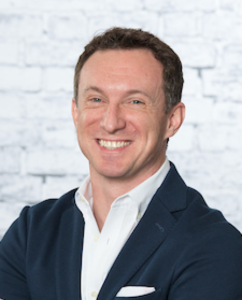 BLAYNE CANDY
Executive Vice President and Co-Founder
Blayne Candy, co-founder and partner of Checkmate Global, also began his foray into the security market while serving as a Senior Lead Press Advance Representative for the George W. Bush White House, where he worked alongside U.S. Secret Service to plan logistics and travel for the Traveling White House Press Corp.
Candy's experience in the audio visual technical production side of Showcall's broadcast business has provided him the experience and tools to captain Checkmate Global's technical offerings including mobile surveillance units, communication networking interoperability and IT infrastructure for 1st Responders.
REBECCA KURTOM
Rebecca Kurtom's experience in the event and perimeter security world is as diverse as the locations in which she has honed her talents. Rebecca joined the Showcall family as a full-time Account Executive in 2013, but she has, in fact, been a member of the team on and off since 2005, beginning by serving as Showcall's Manager of Event Operations and Protocol at the U.S. Pavilion at the World Exposition in Aichi, Japan. Rebecca continued to serve in a variety of critical roles for the Showcall Companies (Showcall, Checkmate Global, Infinite Power and MHA Audio) over the intervening years.
Immediately prior to joining the Showcall companies full-time in 2013, Rebecca spent 5 years refining her large event and venue management skills working for Events DC as a Senior Events Manager. At Events DC, Rebecca managed myriad events – including a significant number of premiere city-wide events – in three unique venues: RFK Stadium, the DC Armory, and RFK Festival Grounds (comprising more than 100 acres of event space). It was during her time at Events DC that Kurtom became an expert on large-format, outdoor events and event security.
Kurtom first began working with the Checkmate Global team in 2013, serving in an essential role supporting the installation of perimeter security for the Presidential Inauguration. Having discovered a passion for the operational management of perimeter security assets, Rebecca began taking on larger and more complex roles in the perimeter security world over the following years.
During her tenure with the Showcall Companies, Kurtom has continued developing her perimeter security asset expertise, gaining unmatched experience and unique insights that have made her an invaluable asset to the Checkmate Global Team and clients.
With a focus on managing accounts and projects on a global basis, Kurtom continues to lead pivotal projects under the Checkmate Global banner. Most notably, Kurtom served as Checkmate Global's overall operational lead to provide and install security assets supporting a variety of events including:
2021 and 2017 Presidential Inaugurals;
Election Night 2020 in Wilmington, DE;
2020 Presidential Debate at Belmont University
2019 Opening and Dedication of the Dallas Holocaust and Human Rights Museum
2016 Republican National Convention in Cleveland, OH
2015 Visit of Pope Francis to Philadelphia, PA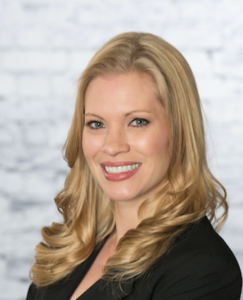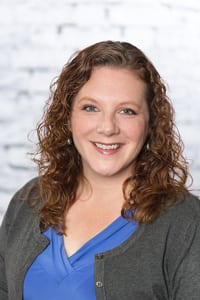 JAIME PRINE
Since joining Checkmate Global in early 2016, Jaime Prine has provided security management for the 2016 Republican National Committee in Cleveland, OH, the 2016 Vice Presidential Debate at Longwood University in Farmville, VA, served as Deputy City Lead for the 2017 Presidential Inauguration, Project Lead for the 2020 NBA All Stars game in Chicago, IL, and most recently the Operations Lead for the 2021 Presidential Inauguration.
Jaime has also worked as a lead consultant and coordinator on multiple security installations around the Washington DC area for high level foreign dignitaries and government officials.
Originally from Michigan, where she obtained a Bachelor's of Arts in Theatre, Jaime moved to Maryland in 2000, working her way up to Associate Producer at Troika Entertainment, producing Broadway musicals which toured worldwide.
JACKI GRUBB
Jacki Grubb joined the Checkmate Global team in 2021 as Controller, coming to us with over 25 years of financial and human resources experience. As Controller, Jacki's responsibilities are expansive. They include building overhead budgets, maintaining banking relationships, and forecasting long term financial information while managing the day to day accounting operations of the Company.
Jacki also serves as our Human Resources contact for our team members. She manages our employee benefits, hiring and onboarding, and is focused on making Checkmate Global a great place to work.
Prior to joining Checkmate Global, Jacki worked in the construction industry and was responsible for the financial aspects of multi-million-dollar construction projects. While in college, Jacki interned for a local general contractor, climbing her way to Senior Accountant. She most recently held the position of Accounting Manager with another local general contractor.
Jacki's attention to detail, ability to see the big picture, and critical thinking make her a great fit for Checkmate Global.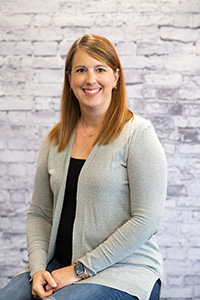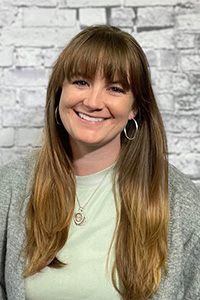 ALEX MACK
Joining the team in 2014, Alex oversees the company's daily operations, including: project scheduling, travel management, event logistics support, data management, expense tracking, and equipment management. In addition to her regular duties, she has also taken on leadership roles in some of Checkmate Global's major events, serving in Operations Assistant for the 2021 Presidential Inauguration, Asset Administrator for the 2017 Presidential Inauguration, and Production Assistant for the 2016 Republican National Convention, 2016 Nuclear Security Summit & 2015 Visit of Pope Francis to Washington, DC.
Alex holds a Bachelor's Degree in Criminology and Criminal Justice from the University of Maryland, College Park. During her studies at the University, she was accepted into the Federal Semester Program with a focused study in Homeland Security & Countering Terrorism. During her final semester at UMD, she held an internship with USCIS at the US Department of Homeland Security. Alex's organizational expertise, coupled with her keen ability to focus on the big picture, while simultaneously homing in on the minute details, make her an invaluable member of the Checkmate Global team.
RACHAEL CELI
Operations Administrative Assistant
Rachael Celi serves as Checkmate Global's Administrative Assistant, overseeing the companies' daily administrative operations including office reception, answering phones, managing & ordering supplies, data management, coordinating in-house events and parties, booking travel, and providing event logistics support to the Account Managers. She also regularly provides administrative support to the Presidents of our sister companies, Showcall & MHA Audio.
Prior to joining Checkmate Global, Rachael served two years as Office Coordinator for one of the top Real Estate Brokerages in Frederick, MD. She graduated from East Carolina University with a B.S. in Economics with a Minor in Business.
Rachael recently spent a year traveling in an RV across the country, hitting over 45 states! In her free time Rachael likes to go to concerts, spend time with family and enjoy the outdoors.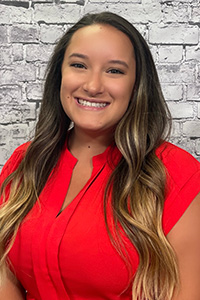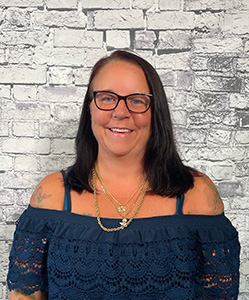 BILLIE-JO GEPHARDT
An accounting professional since 1995, Billie-Jo serves as Checkmate Global's Office Manager, and is responsible for the financial management of all aspects of the company, as well as its affiliate companies: Showcall, Infinite Power, and MHA Audio. Billie-Jo's responsibilities include: managing the company's operational budget, accounts payable and receivable, payroll, contracting and procurement, vendor management, budget development, management and reconciliation, client budget oversight, and human resources management.
A native of Baltimore, MD, Billie-Jo earned her AAS in accounting from the Community College of Baltimore County. She is a single mother, and she and her son are avid fans of the Baltimore Ravens and Baltimore Orioles.